Customers today are more educated than ever before. This is why we often recommend a content marketing strategy for our own customers, and even email marketing that is completely automated and meant to build education.
At the beginning of 2017, we decided to also include a more Advanced Reputation Management strategy into our product catalog. As search engine optimization (SEO) authority Moz, often points out*, reviews are typically a top reason why a local business ranks or not in Google's local results. Our customers are often busy small business owners, so asking them to take an online reputation strategy on as a new project often led to failure.
Our goal was to take on this job for our customers, and improve the average online rating for their business and improve the number of ratings for them as well. We started with 5 local small businesses to begin our new service. Here's what the TrustWorkz team achieved in the first 60 days with these 5 businesses.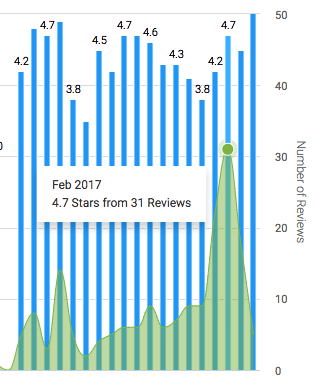 The 5 test businesses consisted of 2 home services companies, 1 retail store, and 2 family entertainment centers. Results were fairly consistent across all stores. We chose the 5 locations based on the history of doing business with them (we knew they believed in providing customer service), their location to a large metro area (all were large east coast cities), and because they all had specific weaknesses in their online reputation.
Online Reputation Building Results
Average Number of New Reviews in 60 days: 49
Two businesses improved their star ratings (1-5, 5 being the highest) in Google by: 3 positions (1/5 stars to 4.5/5 stars)
Customers that increased their Google rankings after first 60 days:  5 out of 5
Average number of impressions from Google: +30%
Average number of clicks in Google: 24%
Learn more about building a strong online web presence. Request a free analysis today!
* Citations