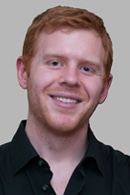 Kevin Ekmark is the President and CEO of TrustWorkz with over 10 years of Internet marketing experience for local businesses.
Over the past few years, Kevin has worked with nearly every type of business, from small family owned businesses to Fortune 500's . Through all of his experiences, he has developed a heart for small businesses, who are often overlooked or taken advantage of because of their size. For this reason, Kevin is proud to be part of such a strong community of marketers at TrustWorkz that share his vision and passion for local businesses.
Kevin's years of experience have taught him that small businesses can dominate their hyper local market by building their web presence with the methods used by TrustWorkz , Inc.
As CEO, Kevin works with his TrustWorkz team to develop new processes and procedures for researching, creating, and implementing marketing strategies to help clients be found online.
When Kevin isn't knee deep in code or spreadsheets, he enjoys spending time with his family, relaxing at the lake, and enjoying local restaurants in Atlanta with his wife.
 Where to Find Kevin Online
Follow Kevin on Twitter: @KevinEkmark
Circle Kevin on Google Plus: +KevinEkmark
Find Kevin on LinkedIn: LinkedIn.com/in/KevinEkmark
Check out Kevin's personal Blog: KevinEkmark.com