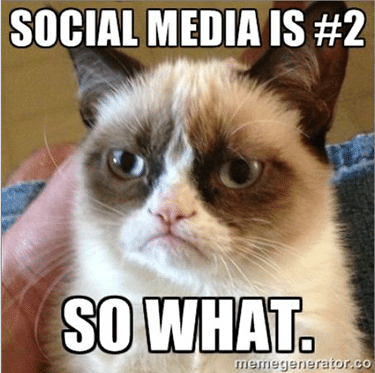 In a recent report from Forrester Research entitled "How Consumers Found Websites in 2012", social media was second only to search when respondents were asked how they typically found websites that they've visited in the past month.
For those of you who remain skeptical as to whether or not social media can be a driving force to help you grow your businesses…go ahead and exhale. Almost 1/3 of all Americans prefer using social networks like Facebook and Twitter as their method of discovery. This is up from 18% just two years ago. In the very near future social media may drive more traffic to your website than search engine optimization (SEO).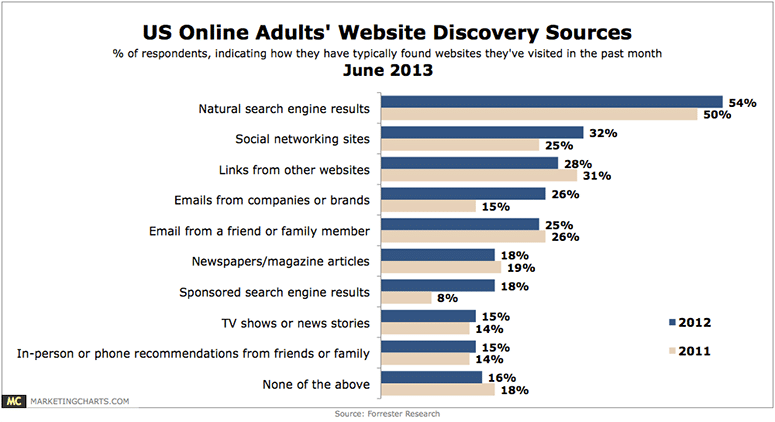 Searching the Internet as a preferred means of discovering websites still comes in strong and ahead at 54%, but in 2010 this number was at 61%. A quick calculation of these two trends paints a pretty clear picture. Based solely on the face value mathematics, you should be able to decide for yourself where your digital marketing efforts could use a little more love, or less.
"Effective marketing starts with knowing how customers find you, whether in traditional ways or online. Among other things, that means knowing how people stumble onto your website." – Inc.com
Stay the course with your search engine optimization (SEO) efforts. On-site optimization of your content and meta-data, blogging, and building relevant inbound links will still gain you the lion's share of the traffic to your website, even if just barely.
Consider shifting some of the time, effort, and money that you dedicate to other marketing tools and tactics towards a stronger and more engaging social media presence for your business. At this point, you're still slightly ahead of the curve.
The report also addresses the generational factors within the overall data. In the 18-23 age group a full half of these utilize social media as their primary resource. For the 24-32 range that number is 43%. Interesting to note that 28% of the 68 and older crowd still prefer offline media such as newspapers and magazines over online channels for discovery.
Paying close attention to how younger generations are using the Internet provides a great predictive insight for marketers. Based on the data in Forrester's report we can all but bank on the fact that Internet users in the future will utilize social networks over search engines as a means of discovery…and we should all start preparing for this today.
So take this information and run with it. If you do still find it all a bit overwhelming you can always reach out to us. We'd be glad to partner with you to help grow your business and secure your future!