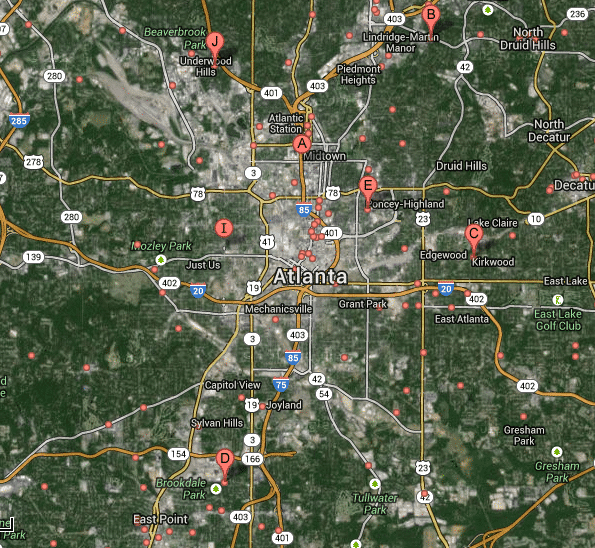 There are many different pieces of the local internet optimization puzzle that help small businesses be found online. It begins with a strong website, content creation, and social media presence. As your web presence grows and your own website begins to rank well in search engine rankings, it's important to remember that there are other touch points on the web.
I've always felt very strongly that the foundation of your web presence begins with your owned website. That said, there are local citations, traditionally thought of as Yellow Pages, that send valuable signals to search engines. These signals validate the information that you provide on your business's website, in addition to providing additional touch points that you can own and control for yourself. Local citations play an important role in many local business's internet marketing strategy.
What do people find when they search for your business?
If you search for a "Joe the Plumber in Dunwoody, Georgia" in Google, there's a good chance that you will receive results that include owned websites (JoeThePlumberGA.com), but you will also be served sites such as Yahoo, Citysearch, and Yelp. These are local listing sites, or as many call them, local citations. The local citations can help legitimize businesses, proving that their most important information is accurate across the internet. This data will help search engines like Bing and Google piece together important information, helping them to deliver accurate results regarding local searches.
Accurate information is important. The most important information is called "NAP" (Name, Address, Phone.) Some local citations will allow you to list more information such as your website, or online specials. These can be extra marketing opportunities for your business, and they cost next to nothing to publish and track.

Ensuring that your information is correct is extremely important. Many of your potential customers might be looking for more information about your business, including reviews. Ignoring their searches won't prevent them from finding you. The best thing that you can do is to proactively claim, and manage these listings so that you can control the message and respond to positive and negative feedback.
Local Citations Are Ranked in Search Engines
The benefits of claiming your local business citations don't end with name specific searches. In addition to verifying information across the internet, local citations also rank very well in search engines. Many times, local search engine results (SERPS) will include listings from local directory websites such as Yelp.
Why does this matter?
Well, if a potential customer searches for "birthday parties in City, State", there's a good chance that (if you're a TrustWorkz client) your website will show up, along with a long list of local directory links. Obviously, Google and Bing consider local listings to be important sources of information. Claiming your local directory listings is a proactive way to take control of search engine real estate. Imagine, your website shows up, along with your claimed Yelp listing, Facebook page, and Citysearch listing. That's four out of ten less places on Google's search engine results for your competition to show up on page one.
Taking Control of Your Local Listings
Most local directory websites will allow you to claim them one by one. It's a long, tedious task, but it's an important piece to your digital marketing puzzle. You can claim the listings yourself, but that's not your only option. There are a variety of ways to expedite the process:
Use a local website claiming service: There are a variety of services that will let you claim multiple citations. Some of these services will reflect changes to your listings within minutes, and some will take weeks. Options and pricing vary between services, so be sure that you put in your research before signing up for a service.
Outsourcing the claiming process: Some marketing firms will still manually claim listings one by one. The entire process takes longer, and typically comes at a premium. Even after claiming your listings, it takes weeks for any changes to your address or phone number to be reflected online. This is why most in house marketing teams use a combination of claiming services in addition to their digital marketing staff.
If you're interested in learning more about how your business is listed online, contact us today for a free website analysis and local listing report.