Family Entertainment Centers that are concerned about their Internet marketing always want to know how to show up on Google's map listings (map pack). These listings appear when a Google user searches with local intent (ie. Family entertainment center in City, State.)
If you're unfamiliar with what I'm talking about, view the image below.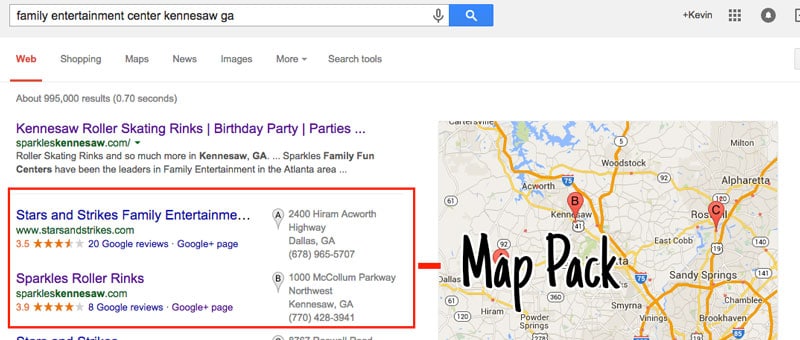 Local listings are extremely valuable Google real estate because they carry so much information all in one space. Your name, address, phone number, and even reviews show up. Hopefully, your FEC is listed and benefiting from a strong local listing in Google. If your entertainment center is absent from Google's "map pack", here are a few reasons why you might not be showing up yet.
Local Information that Your FEC Is Missing
1. Content on Your Website: Google is looking for information that matches information that their users (also your potential customers) are including in searches. Relevant content would include information about your name, phone number, address, and services.
2. Google My Business (Google + Page) Information: One of the first things that you should do after opening your business is claim your local listing on Google. Google My Business has evolved over the years into a local information hub where businesses can receive reviews, list their business information, and post content about their business. Make sure that your Google My Business profile is verified, linked to your website, and 100% completed with accurate information.
3. Verification from Other Local Listing Sites: Google is looking for information from other quality websites to verify that what you have told them is accurate. Basically, the more respectable local sites that can vouch for you, the better! Local sites include Yelp.com, Bing, Yahoo, CitySearch, and more! Focus on ensuring that your name, address, phone number and website are identical to your Google My Business listing and information on your website. Run a scan on your local presence now!
4. Reviews Across the Internet: When it comes to your local rankings, your online reputation is most likely affecting your local ranking. It's important to attract customer reviews on your Google My Business listing and others across the Internet such as Yelp and Facebook. These reviews, especially on Google My Business, help your listing stand out and rank well online.
5. Where Your Business Is Located: Search engine results are becoming more and more personalized. We often see that Google is using a variety of local information to deliver you the best results possible (which vary, because they are often testing these results). Many times, Google delivers results based on how close your business is to city center. However, the mobile Internet is making that type of result less relevant. We noticed that in December 2014, our family entertainment customers saw around 70% of their traffic from a mobile device. Google knows this too, and will continue to personalize search results by delivering local information that is based on your current location (If you haven't considered a mobile web presence, now might be the time.)
The Frustration of Google's Map Packs
Google's local map results have been somewhat of a lab test for Google over the past few years. While we know that Google frequently tests tweaks in their algorithm, this is one area that becomes easier for us to notice (and stress over) changes. Over the years, we have learned that no matter what algorithm changes that Google makes, great businesses with solid reputations continue to win year over year.
Let TrustWorkz take care of the technical details of your web presence while you focus on delivering amazing customer experiences! Contact us today to learn more about optimizing your web presence for your local market.