Most small business owners are not Internet marketing gurus, and they are struggling to keep up with how quickly the online environment changes. That's why we're here!
TrustWorkz provides comprehensive and affordable Internet marketing plans to give local business owners a competitive edge. We know that you have better things to do than to become a marketing expert. You need real results, and you need someone who understands your business to go out there and do it for you! That's exactly why TrustWorkz provides you with a Web Operative, your very own marketing strategist.
It's All About the Relationship
Each week, you and your Web Operative will have a quick 15-minute strategy call (yes, that's all it takes!) We view our relationship with your business as a partnership, where we are invested from day one in helping you succeed! Your Web Operative gets to know you and your business  and will create the strategy, implement it, and then report on our successes each and every month. Meanwhile, you can focus on the vision and operational success of your small business.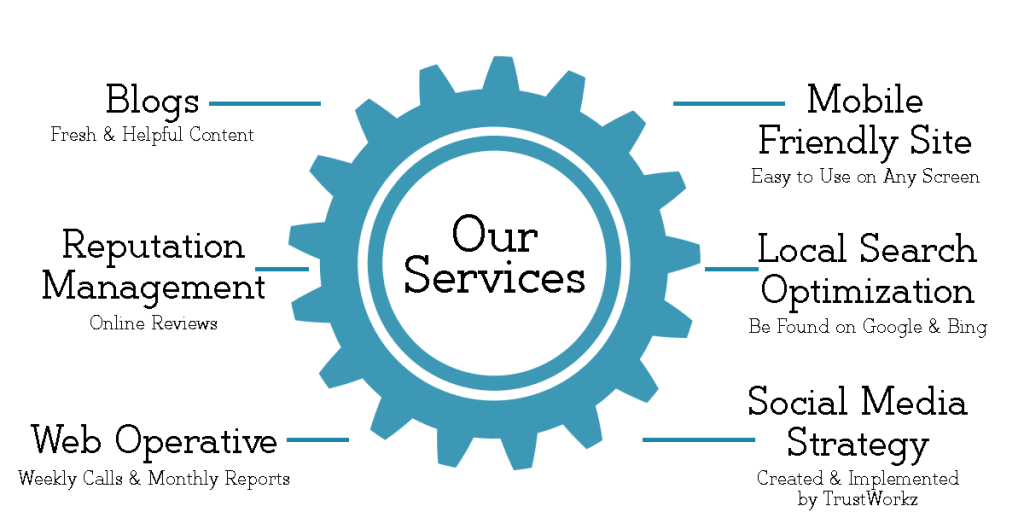 Internet Marketing Made Easy for SMBs
All of our convenient Internet marketing programs include:
Social Media Management
Reputation Management
Local Search Optimization
Monthly Reporting
Web Operative
Phone directories and print magazines just aren't working these days. Let TrustWorkz step in and deliver the results that your business needs. Contact us today and let us improve your annuals sales like we have for hundreds of other small businesses.