Before we partner with a new family entertainment center, we run an analysis of their current web presence. We do this for a few reasons:
Benchmark where the customer's web presence is before partnering with TrustWorkz
Set future goals and KPI's to measure our success
When we went to Las Vegas for the Roller Skating Association International Convention last week, we prepared a report for every center in attendance and even some that weren't as well. We built over 100 individualized marketing reports in two days, and graded web presences from 0 to 100. We graded the websites in 7 main categories:
Mobile friendliness
Social Media Strategy
Search Engine Optimization (SEO)
Pages Indexed
Site Load Time
Local Reputation
Online Party Booking
Full disclosure: I'm removing our customers from these numbers. They scored 100 out of 100 in our grader, because their current services cover all 7 grading criteria. Our immediate goal is to bring a center up to 100 within days of launching their new website.
How the Family Entertainment Industry Fairs Online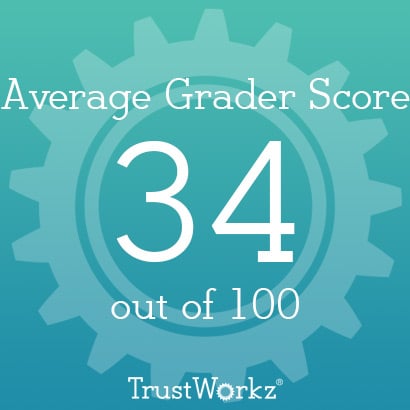 While the RSAI is just a segment of the FEC industry, their Internet marketing is on par with the industry as a whole. Some may take comfort in knowing that, but it's not meant to be a pat on the back. If anything, FECs are in a situation where they are falling behind Internet marketing standards. The good news is that there is an enormous amount of opportunity for FEC's that want to stay ahead of the curve, or at the very least, catch up to the modern world. Like many disciplines, you must take care of the fundamentals before becoming a star. Our marketing grader was developed to cover the very basics of modern Internet marketing for Family Entertainment Centers. The average score was 34 out of a possible 100. Scores were as low as 0 (zero) and as high as 70. Here is what we learned after grading site after site.
Mobile Friendliness
One of the first tests we ran was Google's Mobile Friendly test. While the effects of Google's new mobile friendly algorithm update are yet to be determined, we believe that a mobile friendly web presence is key for any small business. Why? We know that our customers receive about 70% of their traffic from a mobile device. The last thing you want to do is alienate a majority of your customers by providing a sub par user experience. Customers that have a bad mobile experience on your website will go back to Google and look for a better option. Do you really want someone to judge your business before they even walk through your doors? It might not sound fair, but it's true and it's something that most business owners can solve. Less than 25% of FEC's we review have a mobile friendly solution.
Social Media Strategy
The majority of rollerskating centers and FEC's that we grade do participate on social media. However, even if the entertainment center posted regularly, it was clear that there was no actual social media strategy put in place. Most centers that we graded showed inconsistent postings, a lack of post type varieties, and a severe "ME" complex. When we look at a social media presence for a family entertainment center, we look to see if they focus first on adding value for their customers. An easy way to improve your social media score is to create a content calendar to help guide your posting strategy. This allows you to visually plan ahead with a variety of content that should ultimately add value to your customer's experience with your company. Remember to edify, educate, and entertain! HAVE FUN!
Search Engine Optimization (SEO)
When grading the websites, we found that only three had ever had a professional marketer provide search engine optimization services. Of those three, none of them appeared to have ongoing SEO and all three were using outdated or questionable (grey hat) techniques. Families in most metro areas have a variety of family entertainment options to choose from. If you own or operate an FEC in a market with local competition, SEO will help your business stand out in search engines for important keyword phrases such as "kids birthday parties". Unlike many other marketing tactics, the cost per customer acquired while performing search engine optimization will lower after weeks, months, and years. As you continue to invest in SEO, your visibility in search engines will increase for about the same price. Try thinking about it this way: If you're saving for retirement and invest the same amount year after year, the interest you accrue over time will build a nice nest egg for you and your family. It doesn't happen over night, but it adds up and it pays dividends! We take a balanced approach to SEO by focusing on a few basic points, in addition to a content marketing strategy:
Visibility – Are there pages being blocked from search engines? Are there any page errors?
Meta Issues – Have all of the pages been properly optimized with Titles and meta descriptions?
Content Issues – Does each page have original and relevant content, or is it copied from somewhere?
Link Issues – Are there any broken links on the site? Have they been properly optimized?
Image Issues – Have images been optimized for search engines? Are there broken images?
Semantic Issues – Are the pages structured to be easily read by humans and search engines?
Pages Indexed
We crawled each site to see how many pages were being indexed by Google, and we found a wide variety of results among RSA members. Some sites had just 5 pages indexed by Google. Others had 2,000+. A larger number of pages crawled by Google doesn't necessarily mean that the site has a better chance of ranking well in search engine results. We had to dig deeper into each site to see if there was a larger issue at hand, or if there really were hundreds of quality pages being built for these websites. Here's what Google's Matt Cutts explaining indexed pages: It turned out that the sites with a large number of pages crawled were actually being seen as duplicate content. The majority of sites were not producing enough quality content for their customers.  Entertainment centers that implement a strong content marketing strategy can implement a company blog within their website to help improve the amount of pages indexed. Remember, the pages must add value to your customer. Before you press, "Publish", you need to ask yourself if someone will find this content edifying, educational, or entertaining. Obviously, there's more that goes into it, and it's best to educate yourself or #AskAWebOp.
Site Load Time
Did you know that your website's load time is an actual factor in how it is ranked in Google search results? If search engines aren't your number one concern, then your customer's experience should be a top priority at least! Research shows that lowering your site speed can actually increase your website customer conversions (birthday parties) dramatically. Sites that are slow also have an increase chance of sending their potential customer back to Google to find a competitor instead. As our world becomes increasingly faster and mobile, site speed will continue to matter. The good news is that most family entertainment centers are doing okay with site speed. We saw slow speeds with sites that were not made by a professional, used large images, or played music (this will also send customers back to the search engine results.)
Local Reputation
Having a solid local reputation is essential to growing your family entertainment center. Whether you have one location or you are part of a large FEC franchise, your online reputation needs to be a high priority. We checked through major local listings (Google+, Yelp, Bing Local, Yahoo Local, YP.com, etc) to see if members were:
Were encouraging customers to review their business online
Responding to negative and positive reviews
Updating their listings with correct information (hours, name of business, phone number)
We found that a handful of businesses were using a service that we build into all of our marketing packages called Yext. This allows them to correct their local listings and monitor them for reviews. Of the FECs that were using Yext, only one was actually responding to reviews. With 88% of local consumers reading online reviews, a family entertainment center that wants to compete needs to focus on building a strong reputation with customers, and it involves correcting and monitoring your review sites.
Online Party Booking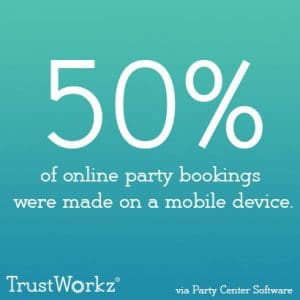 As customers spend more time researching businesses online, it's important to make it easy for them to pull the trigger on their buying decision. An online booking or online reservation system improves the customer experience by allowing them to contact you on their terms. They can either book their party and pay online with a booking system like Party Center Software, or they just as easily make a party request through a simple form system on your website. Family entertainment centers that use online party booking see a dramatic increase in parties booked. Booking systems also allow you to streamline your processes and save time for yourself and your team. With a booking system, you can collect important customer data to help create a unique and memorable experience that will eventually lead to an amazing online review. When we analyzed websites before the conference, we saw that around 40% were using some sort of online booking. In many cases, it was frustratingly difficult to find the button or link that directed the customer to the actual booking system. Many FECs can improve their marketing grader score by implementing an online party booking system and making the process simple for the customer.
What Can Family Entertainment Centers Do to Improve Their Marketing Score?
The TrustWorkz Internet Marketing Score was built highlight the fundamentals of Internet marketing for family entertainment centers. Many of the issues can be addressed all at once and in addition to an ongoing marketing strategy. Website traffic reporting, Facebook Insights, and other social analytics can help shed light into what is and what isn't working so that FECs can make better marketing decisions and attract more customers. If you found this information interesting or insightful, please share it with someone that you know would find value in it! If you would like to learn more about improving your web presence, contact us today!