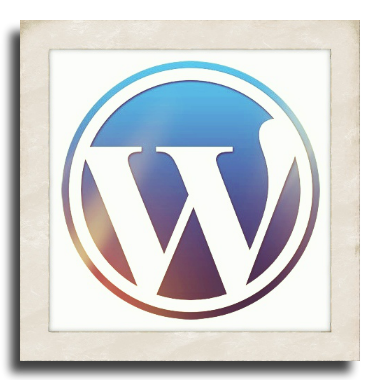 Some consider it bold and presumptuous that we insist on websites built exclusively on the WordPress platform for all of our clients. We take this authoritative stance on WordPress for our clients because it is absolutely appropriate, and therefore not as presumptuous as the word "insist" might imply. As for bold…we'll accept that. Today I wanted explain a little bit about some of the factors that have brought us to our conclusions about the WordPress platform. My hope is that you will quickly realize the many benefits of utilizing the WordPress platform as the hub of your businesses web presence. WHAT IS WORDPRESS? – WordPress is a content management system (CMS) that we use exclusively to build websites for our clients. The websites of yesteryear…the ones that many of us are most familiar with, were not content management systems. This means that we could not access or edit the information on our site. We needed the services and help from our web designer/developer/architect/whatever. Click the image below to view the full size "What Is WordPress" Infographic. Please do click through all of the links in today's post; they will lead you to a wealth of additional WordPress information.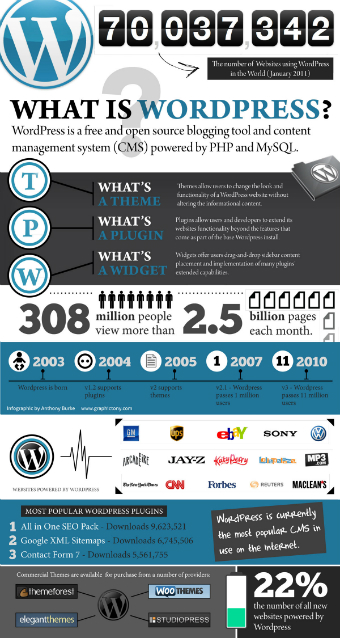 WORDPRESS IS VERSATILE and MALLEABLE – WordPress allows us free access to the information on our websites as well as control over the aesthetics through the WordPress dashboard. The dashboard interface is widely considered to be user- friendly and intuitive. WordPress is often referred to as a "blogging platform" because it allows us to quickly and easily launch new blog posts that will then become archived.  With this ability we can constantly create fresh new content for our clients that can be optimized to gain increased and relevant traffic to their sites. The aesthetics of WordPress blogs and sites are largely controlled by a Theme. Think of themes as a "skin" that lies over the functioning framework of a website. By customizing and modifying themes, site owners can modify and enhance their website's appearance at will. This is desirable over older static websites. Plugins are yet another huge benefit to building on a WordPress platform. Plugins are to WordPress as apps are to your smartphone. There are literally thousands of plugins that have been developed to serve a multitude of purposes and solve a wide array of problems. If we need a site to perform specific tasks or if we need more functionality, we simply find and install an appropriate plugin. WORDPRESS DOMINATES – "WordPress is used by over 14.7% of Alexa Internet's "top 1 million" websites and as of August 2011 powers 22% of all new websites. WordPress is currently the most popular CMS in use on the Internet." – Wikipedia "According to W3Techs, almost 55% of the 1 million most visited websites that are run on a content management system (CMS) are run on WordPress."  – Smashing Magazine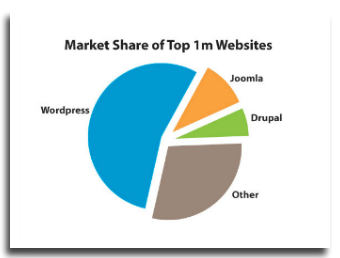 For us, the quotes above go a long way toward predicting what the future of the internet looks like. All of the apparent trends and statistics point to WordPress dominating well into the future. This is supremely important to us because we strive to establish a strong and stable web presence that will stand the test of time for all of our clients. While we're certainly not psychics or fortune-tellers…we do look into what trends can tell us about what the future might hold. Many of the decisions that we make today are tempered by how we feel that these decisions might ultimately weather the onslaught of both time and the advance of technology. It is also our professional stance that Google loves WordPress.  What we mean by this is that we have noticed and documented that our optimizations and tweaks are picked up by the search engines more quickly on sites that are running on the WordPress platform. Creating and optimizing content are the foundational elements of search engine optimization (SEO) and search engine marketing (SEM). These are paramount to success in a businesses digital marketing efforts. In summary: We know of no other platform, framework, or content management system that is as
Stable
Versatile
Malleable
Customizable
User-friendly
Well supported
that allow us to as effectively
Customize site appearance
Create content
Optimize content
Enhance functionality
Solve problems
Dominate in search engine results
We certainly hope that this gives you a better understanding about what WordPress is and what it can do for your business. If you have any questions or comments, please leave them in the comment section. Please let us know if we can help you out in any way. We'd love the opportunity to speak with you about how TrustWorkz, Inc. can help you grow your business.
Pie Chart Photo Credit – Smashing Magazine